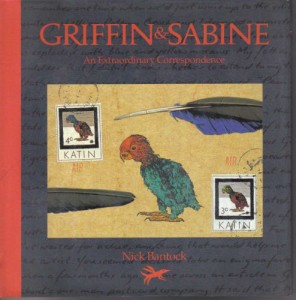 Our topic today in Armchair BEA land is this:
There are so many mediums that feature more than just words and enhance a story in a multitude of ways. Examples may include graphic novels and comics, audiobooks, or even multimedia novels. On this day, we will be talking about those books and formats that move beyond just the words and use other ways to experience a story. Which books stand out to you in these different formats?
For me one book immediately came to mind: Griffin and Sabine. This story unfolded for me in a memorable way, beyond ordinary chapters. Griffin, a postcard artist, one day receives this cryptic postcard from a woman named Sabine. They've never met, but she too, designs postcards. And so they begin to correspond and a relationship develops. It's also a bit of a mystery with Griffin trying to understand how Sabine knows facts about his creative process and changes he'd made to one particular postcard, since he works alone.
What was so compelling about this story was that it was played out in a series of letters and postcards, removable from the book itself. The artwork was gorgeous and incredibly detailed, from the calligraphy, to blocky typewritten fonts, to the postage marks and collages to illustrations. I remember this incredible sense of wonder and a bit of unease as I went through it. The reader gets such a fully realized sense of these two just from the tone and style of their correspondence.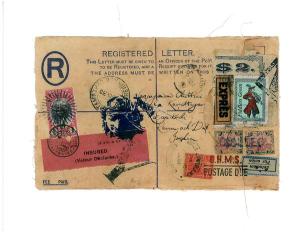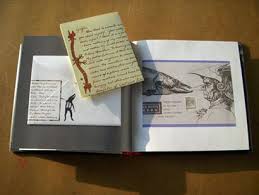 Much as I swore that I'd never love e-readers as much as print, I have to confess that I'm a massive Kindle fanatic. Some stories, however, like this one, can only be experienced in a tangible, three-dimensional way. Check it out and let me know what you think.
xo
Tellulah
Subscribe for bonus content and insider scoops!
Twittering away...
SPOILER ALERT! A fabulous video that you absolutely SHOULD NOT WATCH if you have not yet seen The Good Place s1 fin… https://t.co/Jqf3UnxHg3
- Tuesday Feb 20 - 4:15am
Lose yourself in a funny, sexy urban fantasy romance! The Unlikeable Demon Hunter: Crave releases Feb 20 and to cel… https://t.co/WPcUSnVRRu
- Sunday Feb 18 - 4:56pm
Bet you didn't know you could pair tap dancing and Star Wars! https://t.co/GS2qzvH7nJ
- Friday Feb 16 - 8:45pm
Better late than never! Discovered the Haim Time podcast on Beats One. So good!
- Friday Feb 16 - 6:45pm
SNL, why did you cut this?! https://t.co/zW8qYyVfc0
- Tuesday Feb 13 - 12:45am
Tellulah's Old Darlings