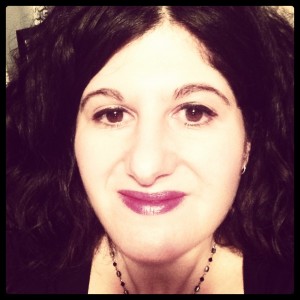 A giant hello to all new visitors to this site. For those friends who don't know, this week, Book Expo America is happening in NYC. While I am extremely envious of all those who were able to go, meet their fav authors, and get book swag galore, I'm very happy to take part in Armchair BEA.
Armchair BEA is the virtual arm of the expo for book bloggers to hang out, blog on the daily posted topics and get to know one another! So with that in mind, let me start off with an intro. My name is Tellulah Darling, lifelong reader girl, first time participant here. (*everyone chorus* Hi, Tellulah Darling!) I'm a former screenwriter who now writes YA romantic comedy books.
Sit back, relax and enjoy my five intro question answers, with deep and piercing insights into who I am. 😀
1.What genre do you read the most? I love to read because ___________________ .
That's easy. Romance. While I devour any kind of good book, it's those love stories that I come back to time and time again. Contemporary, romcom, sci-fi, fantasy, UF, PNR, YA – all good. And why do I love to read? Is that even a question? Because books are like oxygen and I want to keep breathing.
2.What was your favorite book read last year? What's your favorite book so far this year?
If forced under great duress to only choose one favorite read from 2013, I'm going to go with Eleanor & Park by Rainbow Rowell. Not only was it one of the sweetest love stories ever, but Park is completely swoony without falling into the typical alpha male archetype, which I loved.
For my fav read from 2014, I'm going to go in a completely different direction and say Written In Red by Anne Bishop. It's paranormal, but not especially swoony, nor particularly action packed. I kind of sunk into the story like thick molasses and happily stayed under in this world until the book ended. At which point I devoured the next one in the sequel. Of course, this left me having to wait at least a year for book three and I suck at waiting so that's a downside. But I can re-read the first two again any time so win!
3.Share your favorite book or reading related quote. 
But I don't want to go among mad people,' Alice remarked.
'Oh, you can't help that,' said the Cat: 'we're all mad here. I'm mad. You're mad.'
'How do you know I'm mad?' said Alice.
'You must be,' said the Cat, 'or you wouldn't have come here.'
4.If you were stranded on a deserted island, what 3 books would you bring? Why? What 3 non-book items would you bring? Why?
1)Dreamfever (Fever #4) – Karen Marie Moning
You all know why. And if you don't, then go out and read the series so you do.
2)Neverwhere – Neil Gaiman
One of my favourite books of all times. Gaiman re-imagines London, taking the familiar and forcing us to see it in a whole new way. It's filled with amazing characters and poor poor displaced Richard, just trying to get his life back. What's not to love?
3)Franny and Zooey – John Salinger
Most people rave about Holden Caulfield when they speak of Salinger. For me, it's all about the Glass family. It's basically about how Franny has an existential breakdown and her brother Zooey helps her through it. A barrel of laughs, right? But it's a gorgeous book, filled with brilliant writing and genuine human connection. The two siblings are so real for me, and it's not because they're on a wacky quest or tossing off one-liners. Their authenticity comes about through introspection and Salinger's understanding of human nature. I come back to this one often.
Now, which three non-book items. Sure, I could have listed a bunch of really useful electronic devices, but let's be real. They'd probably die before they could be useful and then I'd be stuck with a bunch of dead weight. So I need to think practically here.
1) Towel
Since I was a wee lass, I have taken Douglas Adam's sage advice very seriously. I always know where my towel is. To use to pillow my head, or wrap around me or snap at angry hyenas, it has proven its worth on more than one occasion.
2) Sharp Hatchet
A very handy tool for both the chopping of kindling and decapitation purposes when the zombie apocalypse happens. Sure, you say, what are the chances that the virus will spread to my particular deserted island and infect the local animals? But do I really want to take that chance? I think not.
3) MAC Goddess of the Sea lipstick
I don't leave home without a good lipstick because I was not raised by wolves. And even if I'm only facing angry hyenas or zombies, there is no need for me to look as scary as they do. Plus at least my epitaph can say "She was stupid enough to get herself stranded on a deserted island, but boy, did she look good!"
5. What book would you love to see as a movie?
I usually am not a fan of adaptation. While obviously the book is always better (except Lord of the Rings, which I know is fighting words but Tom Bombadil– just sayin'), there have been a few adaptations which did the source material justice. I'd include A Room With A View, About a Boy and Divergent in those. While I desperately wish that Terry Gilliam had managed to make Good Omens with Robin Williams and Johnny Depp, the one book I would love to see made into a film is Neil Gaiman's Neverwhere. I think in the right hands it could be brilliant.
ARMCHAIR BEA: LITERATURE
The good Armchair people gave us two topics to blog about today.
I was going to take this opportunity to write about a few of my favorite literary fiction novels, since I'm such a genre whore most of the time. But then I thought, screw it. I love romance novels. I've spent years reading thousands of them and dealing with probably almost as many judgy looks (yay for Kindles!) at their covers in my hand.
You know the look, right? The one that clearly conveys that you must be a simpleminded female, led by hormones and unrealistic expectations of love. Which you probably don't have, which is why you read these books while curled up with your 99 cats all named after Jane Austin characters? Yes? Anyone with me here?
Thus, as a proud, intelligent reader girl who yes, loves romance (as I'm sure many of you are – and reader guys too!) I'm devoting this post to my top five fav romance books.
By genre and in no particular order:
Contemp/romcom – Bet Me – I've said it before and I'll say it again. This is the gold medal standard that all romcoms should aspire to.
Historical Romance – A Week to Be Wicked/9 Rules to Break When Romancing a Rake (tie – my post I can do that) – Bring me your governesses, your spinsters, your smart girls in glasses, set it in Regency England and I'm in. These are my favs for obstinate, confounding female who bedazzles rake until he gets a clue and finally falls madly in love. Wish fulfillment? Damn straight!
Urban Fantasy/PNR – Dreamfever – There are a lot of fabulous UF series out there. But none, for me, reach the absolute perfection of MacKayla Lane and Jericho Barrons. Not only is the mythology a great take on all things fae, and Mac so perkily kick-ass I just want to cheer, the chemistry with Barrons is off the charts. Especially in this book. If you haven't picked up this series yet, run don't walk, and grab it.
YA – Eleanor & Park/Night of Cake & Puppets (yup, another tie) – What I love about these two stories, one a novel, the other a novella, is that they are flat out sweetness and romance in all the best possible ways. I love that Eleanor is such an atypical romantic lead. I love Zu's sass and how she creates a quest for her first date. In fact, I've basically appropriated Night and re-written my own first date with husband to reflect it. *snort* Like I'm half that cool. Or lived in Prague. Anyhow, for best of the best in YA romance, hat tip to Rainbow Rowell & Laini Taylor for letting me lose myself in their worlds.
There you have it. Say hi. Introduce yourself. Tell me about your favs books, romance, literary fiction or other. Let's chat!
xo
Tellulah
Subscribe for bonus content and insider scoops!
Twittering away...
Finally worked my way through my TBR pile to Keystone by Dannika Dark and I'm so glad I did! https://t.co/7mNkl5f3dP https://t.co/DQRCBD1xCf
- Sunday Feb 25 - 4:54pm
Husband just remembered that once, when asked what she wanted to be when she grew up, my kid replied, "I wanna be on stilts!" #soproud
- Friday Feb 23 - 9:25pm
https://t.co/1UHQhm57rN Cautiously optimistic about the premise
- Wednesday Feb 21 - 9:20pm
SPOILER ALERT! A fabulous video that you absolutely SHOULD NOT WATCH if you have not yet seen The Good Place s1 fin… https://t.co/Jqf3UnxHg3
- Tuesday Feb 20 - 4:15am
Lose yourself in a funny, sexy urban fantasy romance! The Unlikeable Demon Hunter: Crave releases Feb 20 and to cel… https://t.co/WPcUSnVRRu
- Sunday Feb 18 - 4:56pm
Tellulah's Old Darlings