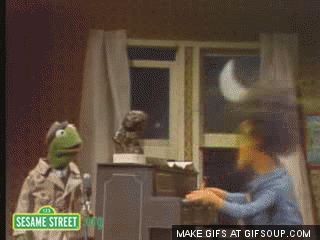 I'm feeling rather like Don Music these days. And it's all because I absolutely hate writing outlines. My #amwriting has ground to screeching halt.
For those of you that may not know this, in my other life, I'm a screenwriting instructor working at a well-known film school and major university where I am a stickler for theme and structure and how both need to flow organically from character. I give students major grief if they try to start writing their feature or TV pilot before they've figured all that out (at least in a starting point of exploration way) and put it into outline form. Seriously. Apparently I've made students cry.
But all I want to do right now for the final chapter of my The Blooming Goddess Trilogy series, (Greek mythology, YA romantic comedy book) is start writing. Without an outline. Not because I had a dream in which everything was perfectly laid out to me, (thank you very much for that added inadequecy, Karen Marie Moning), nor because I can wander my way through the darkness of the story with a clear illuminating light that keeps me from making a misstep.
Nah. I am kind of freaking about doing the hard work. I've got a first act. And an ending. I even have a start and end point for my act two. But the rest of that damn act is a giant wasteland mocking me. I could just write, I guess. It's not like I won't deviate from the outline at some point and let the writing take me where it wants anyways. But I know that way leads to madness and me just rambling through a whole bunch of drafts. Maybe there are writers who do brilliantly without an outline, but trust me, I'm not one of them.
How do I know this? Lean in. I'm going to share a dirty secret with you. It's because the only time I ever wrote a novel without an outline was back when I was writing fan fic. And this was before fan fic even had a name. It was just "teenage girl spews fantasy story about swoony idol(s)." And no, I'm not going to name the swoony idols. It was a mortifying behemoth of a mess with very little plot beyond "he loves me/he loves me not", zero character development, and way too much adolescent yearning. Although it did have snarky banter. Similar to the snarky banter I still write, so yeah, there's the confirmation that I've never matured past my 17-yr-old self.
I've tried to be proactive and approach this puppy in a number of different ways. Thus far I've:
1) Read books on Joseph Campbell and monomyth
2) Reread my favourite books on screenplay structure and theme
3) Deconstructed certain movies beat-by-beat that I thought would be applicable
4) Read books on Jungian psychoanalysis
4) Done an online paper airplane tutorial
5) Learned that in 9 tests out of 10 my cat likes to be brushed for 3 minutes maximum.
6) Watched my daughter watch Minecraft tutorials
7) Tried out various chairs both inside and outside my house for optimum creative flow.
8) Played 22 games of Sudoku
9) Searched house for chocolate
10) Searched house for wine
11) Set up a shrine to the outline fairies
I don't think they're coming. So here I sit, having a pity party and writing a blog post instead of facing my second act, whilst surrounded by a two inch thick stack of research notes.
You know, writing this post helped me find clarity. I'm inspired.
I'm going to take those research notes, make a fleet of paper airplanes and have a tournament!
RELATED LINKS:
New adult books and "broken" girls – please make it stop
Subscribe for bonus content and insider scoops!
Twittering away...
https://t.co/1UHQhm57rN Cautiously optimistic about the premise
- Wednesday Feb 21 - 9:20pm
SPOILER ALERT! A fabulous video that you absolutely SHOULD NOT WATCH if you have not yet seen The Good Place s1 fin… https://t.co/Jqf3UnxHg3
- Tuesday Feb 20 - 4:15am
Lose yourself in a funny, sexy urban fantasy romance! The Unlikeable Demon Hunter: Crave releases Feb 20 and to cel… https://t.co/WPcUSnVRRu
- Sunday Feb 18 - 4:56pm
Bet you didn't know you could pair tap dancing and Star Wars! https://t.co/GS2qzvH7nJ
- Friday Feb 16 - 8:45pm
Better late than never! Discovered the Haim Time podcast on Beats One. So good!
- Friday Feb 16 - 6:45pm
Tellulah's Old Darlings