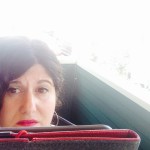 Okay, my acting skills (yes, that is supposed to be me looking perplexed) suck, however, my question is a valid one. Anyone else ever finish a book and wonder, based on fellow readers' reviews, if you've been reading the same one as everyone else?
There's this series I love. I'm not going to get into names because that's beside the point. All you need to know is there is a fair number of books in the series and up until now, I've told everyone I meet who likes this type of book that this series is a must-read. I still believe that.
Except …
The latest one just came out. And I was sooo excited to read it. By the end, I had a relentless headache and a huge WTF look on my face. The writing was good, I'm still invested but overall – meh.
Then I started reading other people's reviews. Raves everywhere – especially about the taut action and character growth. And I started wondering how we had such vastly different experiences of the book. Had I not read it properly? Did they pick up on something I didn't? Have I officially turned into Statler and Waldorf? (Okay, yes, the last part may be true. But still.)
So I'm throwing it back to you darlings. This ever happen to any of you? Where you feel like you're the only one that didn't seem to love a book?
Subscribe for bonus content and insider scoops!
Twittering away...
https://t.co/1UHQhm57rN Cautiously optimistic about the premise
- Wednesday Feb 21 - 9:20pm
SPOILER ALERT! A fabulous video that you absolutely SHOULD NOT WATCH if you have not yet seen The Good Place s1 fin… https://t.co/Jqf3UnxHg3
- Tuesday Feb 20 - 4:15am
Lose yourself in a funny, sexy urban fantasy romance! The Unlikeable Demon Hunter: Crave releases Feb 20 and to cel… https://t.co/WPcUSnVRRu
- Sunday Feb 18 - 4:56pm
Bet you didn't know you could pair tap dancing and Star Wars! https://t.co/GS2qzvH7nJ
- Friday Feb 16 - 8:45pm
Better late than never! Discovered the Haim Time podcast on Beats One. So good!
- Friday Feb 16 - 6:45pm
Tellulah's Old Darlings