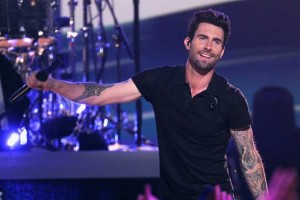 ** This post was supposed to happen last week. Ironically, since it's about me needing a break, my mind went into overload and I actually forgot to write it. That said, let me share with you the post that was supposed to point out why it was probably time for me to take a few days off. 😛
Consider, if you will, the above photo. Study it closely. The dark piercing eyes, the stubble, the all over specimen of  hotness levineicus. Hang on to that.
I've been having trouble writing lately. Hating every word that I dump onto my page. Friends suggested that perhaps I should take a break. I'd recently launched a book, was busy with teaching and marking and life. But I felt compelled to keep forcing those words out. In the middle of all this, I had a dream about Adam Levine. Bet you're thinking *fist pump*. Score!
Keep reading.
Go back to that photo. The man is hot. Not with his current blond hair that makes him look like a preppy cyborg, but in all his dark lusciousness. Hopefully he'll get Goldilocks out of his system soon. Had I ever seen Jewish boys who looked like him growing up, I might have considered dating within the tribe a bit more seriously.
Anyhow, in this dream, I was working on The Voice. I wasn't sure, even in my dream, what I did on the show, but I do remember being glad of gainful employment and that a paycheque was a paycheque. Of course, being so integral to the production team *snort*, I crossed paths with Adam. And we bonded.
Sadly, that wasn't a euphemism for anything. We became friends, geeking out over various aspects of pop culture together. It was a serious wake up call because are you freaking kidding me? I finally landed this guy in my dream and didn't do anything more creative – nay imaginative – than talk about Doctor Who.
wah wah wah waaaaaaah 
I took my break.
My dreams still suck. So I'm looking for new potential sleepytime happy boy suggestions. Serious considerations only. Because momma needs ideas for the back half of her novel …
Subscribe for bonus content and insider scoops!
Twittering away...
https://t.co/1UHQhm57rN Cautiously optimistic about the premise
- Wednesday Feb 21 - 9:20pm
SPOILER ALERT! A fabulous video that you absolutely SHOULD NOT WATCH if you have not yet seen The Good Place s1 fin… https://t.co/Jqf3UnxHg3
- Tuesday Feb 20 - 4:15am
Lose yourself in a funny, sexy urban fantasy romance! The Unlikeable Demon Hunter: Crave releases Feb 20 and to cel… https://t.co/WPcUSnVRRu
- Sunday Feb 18 - 4:56pm
Bet you didn't know you could pair tap dancing and Star Wars! https://t.co/GS2qzvH7nJ
- Friday Feb 16 - 8:45pm
Better late than never! Discovered the Haim Time podcast on Beats One. So good!
- Friday Feb 16 - 6:45pm
Tellulah's Old Darlings