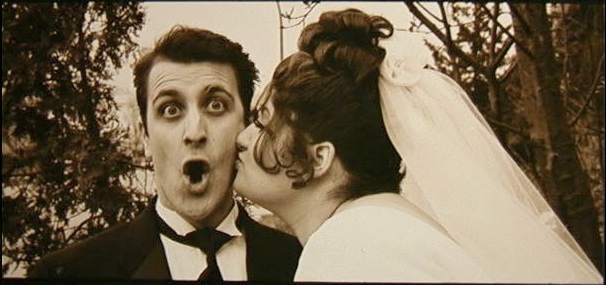 Some say April Fool's Day, I say Happy Anniversary. I'm not sure which my husband says. Today, April 1 is my anniversary, which I've always found amusing. And yes, that is my actual wedding photo.
Most of you know that I love to write YA romantic comedies because teen love is so passionate (and awkwardly comedic but that's another story.) Well, today I want to take a moment to salute long lasting love. Do I still get that fluttery excitement in my stomach at the sight of him? Sure. I still think he's the hottest guy around. But after all these years it's not constant butterflies and romance.
So what's the trade off? It's the moments my husband grabs me as I'm yet again racing out the door somewhere to force me to be still so he can kiss me. It's the fact that he still makes me laugh harder than anyone and I that when I go out into the world I love knowing I have this connection back to wherever he is. It's the fact that the two of us absolutely cannot flirt with each other because it always devolves into inappropriate hilarity. And the fact that if I wake up panicked in the middle of the night, all I have to do is touch him and I calm right down.
Maybe the heady thrills are gone, but honestly, I'm glad to be looking back at those days from my current perspective. There is a weight and a depth to our love that only comes with time.
When I raise a glass tonight to our years together, I'll also be raising a glass to everyone who has that type of love in their life. I'll stop and appreciate the damn fine thing I've got. Loads of lovely love, indeed.
Happy anniversary, NM! It hasn't always been easy but it's definitely been worth it.
Subscribe for bonus content and insider scoops!
Twittering away...
https://t.co/1UHQhm57rN Cautiously optimistic about the premise
- Wednesday Feb 21 - 9:20pm
SPOILER ALERT! A fabulous video that you absolutely SHOULD NOT WATCH if you have not yet seen The Good Place s1 fin… https://t.co/Jqf3UnxHg3
- Tuesday Feb 20 - 4:15am
Lose yourself in a funny, sexy urban fantasy romance! The Unlikeable Demon Hunter: Crave releases Feb 20 and to cel… https://t.co/WPcUSnVRRu
- Sunday Feb 18 - 4:56pm
Bet you didn't know you could pair tap dancing and Star Wars! https://t.co/GS2qzvH7nJ
- Friday Feb 16 - 8:45pm
Better late than never! Discovered the Haim Time podcast on Beats One. So good!
- Friday Feb 16 - 6:45pm
Tellulah's Old Darlings