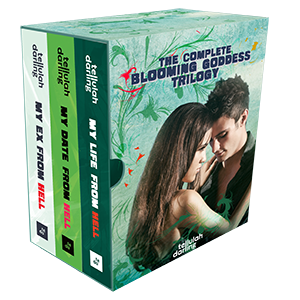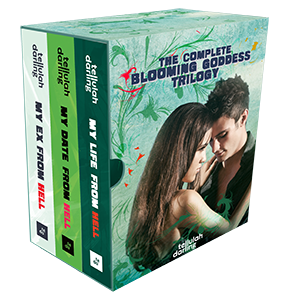 It's my book birthday of sorts today. The exclusive Kindle box set of my Blooming Goddess Trilogy is released. This represents my good-bye to Sophie, Kai, and the gang, so it's definitely a bittersweet release.
Perfect for fans of Meg Cabot, Rachel Hawkins, and everyone who loves their kickass girls sassy and their infuriating gods swoony.
The Persephone myth gets a YA romantic comedy makeover when Sophie Bloom, slacker girl extraordinaire, receives a midnight kiss from a bad boy and discovers that she's actually Persephone, Goddess of Spring. Somehow she's got to save humanity in the war between Hades and Zeus, survive God-ordered assassination attempts, deal with mean girls and teen drama, and stop being kissed by the aforementioned bad boy, a.k.a. Kai, Prince of the Underworld.
Compared to Kai and Sophie, Romeo & Juliet had it easy.
The Complete Blooming Goddess Trilogy contains: My Ex From Hell (#1), My Date From Hell (#2), A Date of Godlike Proporitions (short story #2.5), and My Life From Hell (#3) and is available exclusively for Kindle.
Grab it here – it's a great savings if you want the entire series.
xo
Tellulah
p.s. New book news insanely soon!
Subscribe for bonus content and insider scoops!
Twittering away...
SPOILER ALERT! A fabulous video that you absolutely SHOULD NOT WATCH if you have not yet seen The Good Place s1 fin… https://t.co/Jqf3UnxHg3
- Tuesday Feb 20 - 4:15am
Lose yourself in a funny, sexy urban fantasy romance! The Unlikeable Demon Hunter: Crave releases Feb 20 and to cel… https://t.co/WPcUSnVRRu
- Sunday Feb 18 - 4:56pm
Bet you didn't know you could pair tap dancing and Star Wars! https://t.co/GS2qzvH7nJ
- Friday Feb 16 - 8:45pm
Better late than never! Discovered the Haim Time podcast on Beats One. So good!
- Friday Feb 16 - 6:45pm
SNL, why did you cut this?! https://t.co/zW8qYyVfc0
- Tuesday Feb 13 - 12:45am
Tellulah's Old Darlings