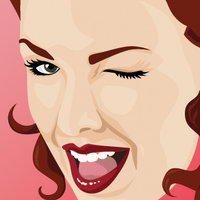 Isn't it amazing how our time-traveling highlanders, ex-Navy SEALS, and shapershfiting warriors can go from badass to grumpypants when they have to multitask? A relaxed bad boy is a happy bad boy. And when my man is happy, I'm happy. Very happy.
Thus, I thought I'd share a few tips, one girl to another, on how to handle those alpha males for optimum results.
1. Break down their choices
With so much going on in my life, I know the sheer number of choices I have to make each day can overwhelm me. So really, when our alpha males have to cope with decisions like "How many demon kills do I have to make before I can kiss her?" or "Are insults foreplay?" it's not surprising it overwhelms them. That's why I really try to make things manageable for them. The first thing I like to do is break things into single goals so that my guy can feel a sense of achievement. Then he can tackle them one by one. "Find secure shelter to ride out current apocalyptic storm. Check! Take shirt off." Check! Direct as needed from there.
2. Don't Overwhelm Them
When it comes to sexytime, I always start with foreplay. I know, this can vary so much from guy to guy. But it's important to warm them up, get the blood flowing so that when the big event happens, our men really feel prepared and confident. This is especially true for anyone getting particularly gymnastic. Nothing ruins a moment like a charley horse. Especially on a six foot plus, 200 lb ripped alpha who'll get all kinds of moody, killing your happy buzz. Take it from me – start slow and build. You'll get to that big finish without mishap. Refrain from trying to have them get into all kinds of impossible contortions all at once. It confuses them. It confuses us. And we're all left unsettlingly unsatisfied.
3. Make Time For Breaks
It's all about pacing, ladies. And bribes. If your guy knows he's going to get a break at the end, it helps him stay focused on the task at hand. "Big finish, baby. Then you can skip the cuddles and go take out that zombie horde." I do suggest structuring the break as well. Use a stop watch and remind him to use the bathroom and get a glass of water. Hydration is everyone's friend.
4. Once You've Got Them Trained, Expand The Scope of Their Choices
Just the same way you'd offer a child his black shirt or his blue button down, if its early days in your relationship give your alpha a manageable number of appropriate choices. Casual dating or exclusivity? Left breast or right? Keep in mind, I did say appropriate. While the time will come when you will want to expand their options to more profound choices such as love and marriage or perhaps a jaunt on the kinkier side of things, until all is primed and ready, to offer those choices earlier could be extremely embarrassing. And painful. And once they suffer a confidence setback, it can take a lot of time to get them back on track. Men, right?
5. Establish A Routine
Whatever structure you set up, stick with it. Set a routine that works for you, while letting him believe he's running the show. But always, with love.
Subscribe for bonus content and insider scoops!
Twittering away...
https://t.co/1UHQhm57rN Cautiously optimistic about the premise
- Wednesday Feb 21 - 9:20pm
SPOILER ALERT! A fabulous video that you absolutely SHOULD NOT WATCH if you have not yet seen The Good Place s1 fin… https://t.co/Jqf3UnxHg3
- Tuesday Feb 20 - 4:15am
Lose yourself in a funny, sexy urban fantasy romance! The Unlikeable Demon Hunter: Crave releases Feb 20 and to cel… https://t.co/WPcUSnVRRu
- Sunday Feb 18 - 4:56pm
Bet you didn't know you could pair tap dancing and Star Wars! https://t.co/GS2qzvH7nJ
- Friday Feb 16 - 8:45pm
Better late than never! Discovered the Haim Time podcast on Beats One. So good!
- Friday Feb 16 - 6:45pm
Tellulah's Old Darlings