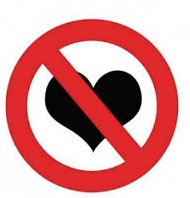 This one is for the ladies. I'd like you to benefit from my professional observances – so I'm sharing 5 dating strategies you might want to avoid if you ever hope to find love.
1) Ditching the guy
This may seem like a no-brainer. But apparently, some people need to be told that when you've had a crush on a guy forever, and he finally asks you out, and you're really really really nervous? Don't panic and ditch him in a busy entertainment district, losing yourself in the crowds and eventually ending up in a skeezy alley in your attempt to flee. Because I guarantee that despite the fact you never run into anyone else you know, you will run into him. Constantly. Awk-ward …
2) Asking out an asshole
Here is an important lesson: fictional bad boys = awesome. Real bad boys = douchebags. I love my dark and dangerous book boyfriends. You know how some people have their celebrity lists? (The free pass to cheating list, like Mr. A-List superstar is gonna fall at our feet.) Well, I have my book boyfriend list. And Jericho Barrens is the first three spots. So I get the appeal. However, that does not translate to real life. Real life means asking him out, paying for everything (which is fine) but having to listen to him insult you with his trademark sarcasm that seemed so funny a week ago, while you fork out your cash. And yes, his insanely beautiful green eyes and tingle-making grin are still very pretty but by the time you're driving him to his gig because he's too cheap to spring for a taxi, will not be worth the three hours of your life you'll never get back. Take my advice – skip it.
3) Drinking/getting high/deciding to go off your meds + emailing/texting/stalking the object of your desire on Facebook
I know you know this intellectually. But if there is a guy you like and you are about to get into an altered state – lock up all forms of communication. Because I promise you, there is no better way to kill any fragile, burgeoning feelings that may be forming between you. And yes, you think you will be perfectly rational. And in your head, you will. To him, and the rest of the world, your interactions will go through the following stages: a) manically cheerful b) awkwardly flirtatious c) sad d) angry and e) mean. And as a special bonus feature, if you've really, spectacularly freaked him out, you'll receive the ever popular parting gift of a restraining order. So buddy up if you're going to cut loose. Because friends don't let friends make contact.
4) Making a romantic meal when you can't cook
Nothing says romance like salmonella. If you can't cook, invite him out for dinner. Or even order in. Hell, order in and pass it off as your own food. That works too. But don't poison the poor guy. At best, he'll be gagging past the raw stir fry noodles and undercooked beef, as you try to pass this "tartare" dish off as some kind of new fusion, and at worst, it's hand holding over the toilet and trying to make small talk in the ER.  "So, how 'bout that guy with the knife sticking out of his leg? Think he had a worse night than us?"
5) Faking it
No, I'm not talking about that faking it. Because if you have to do that, then seriously, he obviously can't find his way around without a GPS so what are you doing with him anyway? No, I'm talking about pretending you love (select appropriate) rock climbing, fly fishing, discussing dead German philosophers in order to make a good impression on your first date. Take a moment and think about it. Do you really want to have to pretend that you love hanging off a cliff in a sleeping bag for the next thirty years, when up till now, your definition of camping is a beachside motel? With cable? Make false promises on your first date and you'll be stuck being that person for the rest of this relationship. Which may end sooner than you think when after one more mind-numbingly pseudo intellectual discussion, you snap and bash him with that ridiculous rotary phone headset for his iPhone. Repeat after me: "I do not look good in prison palettes." And then just be your glorious self. And if you aren't very glorious, well, zero dates trump jailtime.
There you have it. What would you add to this list? Share. Because laughing while finding love is cheaper than drinking.
RELATED LINKS:
Tellulah Darling Dishes Romantic Comedy Advice For Your Love Woes
Subscribe for bonus content and insider scoops!
Twittering away...
https://t.co/1UHQhm57rN Cautiously optimistic about the premise
- Wednesday Feb 21 - 9:20pm
SPOILER ALERT! A fabulous video that you absolutely SHOULD NOT WATCH if you have not yet seen The Good Place s1 fin… https://t.co/Jqf3UnxHg3
- Tuesday Feb 20 - 4:15am
Lose yourself in a funny, sexy urban fantasy romance! The Unlikeable Demon Hunter: Crave releases Feb 20 and to cel… https://t.co/WPcUSnVRRu
- Sunday Feb 18 - 4:56pm
Bet you didn't know you could pair tap dancing and Star Wars! https://t.co/GS2qzvH7nJ
- Friday Feb 16 - 8:45pm
Better late than never! Discovered the Haim Time podcast on Beats One. So good!
- Friday Feb 16 - 6:45pm
Tellulah's Old Darlings