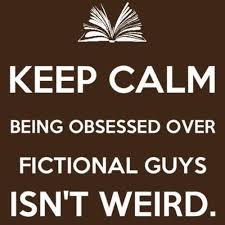 Gather round, darlings. It's time to talk about that most tantalizing variety of guy – the book boyfriend. (This is where all our real beloveds may roll their eyes now. But you don't get to act surprised. You knew what you were in for, falling in love with a girl who reads.)
I'll confess a few of mine first. In no particular order.
1) Archie Andrews (created by Bob Montana): Yes, he of the red hair, freckled fame. A girl never forgets her first and he was mine. I WAS 7 so don't judge. He had to be desirable, didn't he? I mean, both Betty AND Veronica wanted him. And I loved Veronica. She couldn't steer me wrong. Looking back now, I'd probably have waited for Jughead to grow up, swap the crown for a fedora, get hot and make a bundle in the gaming industry. (Fanfic writers, you're welcome.) But back then, it was all about Archie.
2) Zooey Glass (created by J.D. Salinger): Perhaps my most literary of boyfriends. My heart was his with the first read of Franny and Zooey. No alpha male here, but a dark haired, brilliantly scathing, brilliantly intelligent actor who despite his rampant misanthropic exterior, is full of such love and desperate for such beauty in life. Salinger paints his every nuance in such exquisite detail. I will always have a place in my heart for Zooey.
3) Jericho Barrons (created by Karen Marie Moning): Having just re-read the Fever series for my 10th (?) time, I am able to say that Jericho remains my hot fictional guy of choice. Forget alpha male, this guy is in his own category. As in not entirely human. But his intelligence, wit and intense masculinity, allow him to take that sexy scale of 1-10 and disintegrate it into ashy hotness. He is the ultimate bad boy that you know if he could only find the right women who is absolutely you, would look into your eyes and fall in love and then you'd be the luckiest girl in the world. *snort* Kind of. But yes.
4) Nicholas (created by L.H. Cosway):  In Painted Faces, he's a heterosexual drag queen who goes by the name Vivica at night, Nicholas is so very compelling. Rampantly sexual, funny, and yet fighting very real personal demons. He is my favorite embodiment of smoldering hot, cocky, snarky and smart. But what I also love about him is how he sees sexy beauty in (The One) Freda and forces her to see it in herself. So many times, with these bad boys, the girls are already pretty kick ass. But Freda is chubby and mouthy and makes cupcakes. I love her. And while they seem unlikely lovers, they bring out the best and the hottest in each other. For me, that makes Nicholas even more appealing that he already so highly is on his own.
5) Park Sheridan (created by Rainbow Rowell): Bet you didn't see this one coming. Park, in Eleanor and Park, is as far from my prized alpha male range as you can get. A slight, half-Korean boy, who while moderately popular, mostly keeps to himself. He's into comics and music, not taking down bad guys. And yet … Park is so real and flawed and beautiful and full of love and longing and hope and wanting to be his most amazing self that it was impossible not to fall in love with him. Not to take away from any of those wonderful authors who create fabulous alpha males, but I have to give such props to Rowell for creating such a perfectly swoony boy who is just a regular real teen like so many others that I may have overlooked in my own teen years, and missed out on because of it.
Finally one more boy I want to mention. As you all know, I write romantic comedies. And here's a little secret – first and foremost, I'm writing them for myself. So I will always have a place in my heart for my first book boy creation Sam Cruz. He is so deluded and flawed and yet already so full of love and in love if he can only just see it staring him in the face and not run screaming.
Let the psychological dissection of my tastes begin! And share your favourite book boys. Who knows? They may get added to my list and then we'll have someone to fight and sigh over together. 🙂
I also want to encourage you all to enter the NAME SOPHIE'S GODDESS POWERS CONTEST on now. There is a very cool prize to win if your name is chosen. Click HERE for entries and rules.
RELATED POSTS:
Tellulah Darling's top ten of smart TV chicks
Mediocre romance and hitting the happily-ever-after sweet spot
On being cheap vs easy a.k.a. are you Betty or Veronica?
Subscribe for bonus content and insider scoops!
Twittering away...
https://t.co/1UHQhm57rN Cautiously optimistic about the premise
- Wednesday Feb 21 - 9:20pm
SPOILER ALERT! A fabulous video that you absolutely SHOULD NOT WATCH if you have not yet seen The Good Place s1 fin… https://t.co/Jqf3UnxHg3
- Tuesday Feb 20 - 4:15am
Lose yourself in a funny, sexy urban fantasy romance! The Unlikeable Demon Hunter: Crave releases Feb 20 and to cel… https://t.co/WPcUSnVRRu
- Sunday Feb 18 - 4:56pm
Bet you didn't know you could pair tap dancing and Star Wars! https://t.co/GS2qzvH7nJ
- Friday Feb 16 - 8:45pm
Better late than never! Discovered the Haim Time podcast on Beats One. So good!
- Friday Feb 16 - 6:45pm
Tellulah's Old Darlings