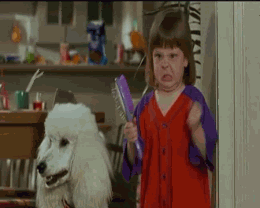 It's venting time, darlings. I've had the good fortune to read a bunch of phenomenal YA novels over the past month. Which is why, being knocked upside the head with some of these irritating tropes in the meh books, becomes all the more annoying. Here are the tropes currently making my head explode:
#1: She is hot.
This is the gorgeous girl who perhaps is tired of being seen only for her looks because really she's got troubles too. Which sure, she may genuinely have. But here's a radical thought: there's going to be a hot guy who will be interested in said hot girl. So how about we get a bit of diversity in female body types? Go beyond the one radical idea of someone being different by being a size 10 (quelle horreur – double digits!) to have a truly plus size girl be a flat out object of romantic attraction. Or she's blind or deaf or physically challenged in some way. Just something beyond these girls who even when they are supposed to be average, are described as anything but. And if she could go to school in clothes that don't sound like she's going clubbing, then bonus.
#2: She has no sense of personality whatsoever.
I keep reading these books where I'm told what a good friend our female lead is. And yet I have no idea why. Sometimes I'll be told that she's the responsible one. Uh, yeah. I don't know about the rest of you, but I need more than that to base a friendship on. Stop telling me what a good friend this chick is and show me she has a cool, quirky, smart, funny, whacked out, I don't care what but some kind of personality, that actively makes her interesting. This also applies to relationships, in which case her lack of personality becomes her having a magic vagina.
#3: She is caught in a love triangle.
Because obviously, there must be not one but two guys after her. (This is especially infuriating if she is guilty of #2 above.) I would love someone to do a study and see what percentage of YA novels feature this stupid trope. I remember having enough trouble getting one guy to like me, nevermind two. I'm all for escapism in fiction but at least let it be understandable why they are after her. Also, if you're gonna have a love triangle, let's see her really struggle with the decision. Not pretend she should like one guy when we all know he's filler till she hooks up with boy #2. If you're gonna play that game, just don't. Of course, feel free to have her have to compete (genuinely) with another girl for some guy's (or girl's) affection. That could work.
#4: She fails to have female friendships for much of the book.
Seriously, I am sick of this. Have at least one genuine, good female friend. A friend that we see is worthy of female friendship/celebration. Not just some paranormal other that they meet at some point and become friends with for reasons of proximity? Bonding over reluctant infliction of damage on the human population? Gay besties are lovely but as a female, I feel it's important to acknowledge female friendships. Having a great chick in our lives is a joy. So let's see more stories that embrace this.
I feel like I'm missing something obvious here. What trope drives you nuts when it comes to YA female protagonists?
Subscribe for bonus content and insider scoops!
Twittering away...
https://t.co/1UHQhm57rN Cautiously optimistic about the premise
- Wednesday Feb 21 - 9:20pm
SPOILER ALERT! A fabulous video that you absolutely SHOULD NOT WATCH if you have not yet seen The Good Place s1 fin… https://t.co/Jqf3UnxHg3
- Tuesday Feb 20 - 4:15am
Lose yourself in a funny, sexy urban fantasy romance! The Unlikeable Demon Hunter: Crave releases Feb 20 and to cel… https://t.co/WPcUSnVRRu
- Sunday Feb 18 - 4:56pm
Bet you didn't know you could pair tap dancing and Star Wars! https://t.co/GS2qzvH7nJ
- Friday Feb 16 - 8:45pm
Better late than never! Discovered the Haim Time podcast on Beats One. So good!
- Friday Feb 16 - 6:45pm
Tellulah's Old Darlings